What mattress sizes are available for couples?
Couples usually sleep in double beds. Depending on the size of the bed and the desired sleeping comfort, either two single mattresses or one continuous mattress for both sleepers are considered.
The following mattress sizes are available for couples:
140×200 cm mattress: With a size of 140×200 cm, this mattress shape is particularly suitable for very narrow double beds that do not reach the dimensions of a queen-size bed. Usually only mattresses with the size 140×200 cm come into question here, because there are no suitable single mattresses which could be laid twice in the bed.
160×200 cm mattress: With a size of 160×200 cm this mattress width is optimally suited for a queen-size double bed. With a continuous mattress in the size 160×200 cm, a visitor's gap like with two single mattresses can be avoided. Also the handling is still quite easy with this size and can be easily handled by one person.
180×200 cm mattress: With a mattress in the size 180×200 cm double beds between queen-size and king-size can be used. The pleasantly large width of the mattress and the absence of the "visitor's gap" often play an important role in the decision for a double mattress. Nevertheless, a mattress with 180×200 cm is quite bulky when turning the mattress and covering it.
200×200 cm mattress: With a size of 200×200 cm such a mattress is suitable for a real king-size double bed. The continuous mattress offers a high sleeping comfort and the omission of the often disturbing visitor's gap. However, turning and also covering a 200×200 cm mattress is a real challenge for many people.
In addition to the pure size of the mattress, the chosen degree of hardness also plays an important role. After all, if possible both persons should feel comfortable on the mattress and enjoy a relaxed sleep. Once you have decided on a suitable size of mattress, the degree of firmness should also be adjusted.
By using a Mattress Topper, however, it can be adapted to individual requirements. It is much more important that the size of the mattress matches your own sleeping habits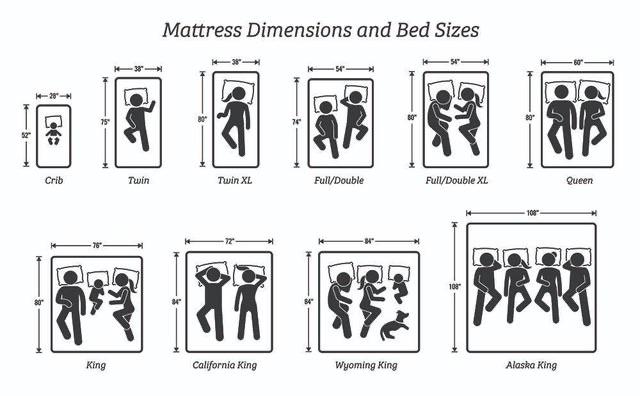 What mattress sizes are available for singles?
Singles also appreciate a high level of sleeping comfort and therefore a high-quality and suitable mattress. The different mattress sizes for singles naturally depend on the beds used.
The following mattress sizes are most popular with singles:
90×200 cm mattress: The 90×200 cm mattress is the standard mattress for narrow single beds. This mattress also known as twin size mattress, is often used when a double bed is not desired or a double bed can be optimally used with two mattresses of this size. The size 90×200 cm offers enough space for a peaceful sleep, but the sleeper has to get used to the space conditions.
100×200 cm mattress: A mattress with 100×200 cm is used in both single beds and king-size double beds and convinces with its comfortable size and easy handling. In a single bed the mattress with its size of 100×200 cm offers enough space for nightly movements and is therefore also a good choice for active sleepers.
120×200 cm mattress: A 120×200 cm mattress is designed for particularly wide and therefore comfortable single beds and is ideal for singles who are looking for that special sleeping comfort or are very active at night. In addition, a mattress with a size of 120×200 cm offers enough space in case you do not want to spend one or the other night alone.
140×200 cm mattress: With a size of 140×200 cm a single mattress is almost wide enough for a queen-size double bed. However, single beds in which a 140×200 cm mattress fits are no longer a rarity and reflect the high sleeping comfort that the user of such a mattress can expect thanks to its width.
Apart from the pure mattress size, the hardness of the mattress also plays a significant role in the sleeping comfort. Anyone who wants to buy a new bed should think in advance about the desired mattress size and thus the available space.
Classical single beds play less and less of a role also in single households, so that many singles meanwhile fall back on wider and thus more comfortable mattresses, in order to enjoy their own sleep and find sufficient place in their own bed.
So, Two single mattresses or one full-length?
In a double bed the question often arises whether two single mattresses or a continuous mattress is preferable. This depends not least on personal and individual taste. With a continuous mattress, the movements of both partners are usually transferred to the mattress, which some people find disturbing.
Furthermore, no individual hardness can be chosen. With two single mattresses, however, there is the disadvantage of the so-called "visitor's gap". However, this can be easily negated by a suitable topper.
In conclusion, two individual mattresses are much easier to cover and turn, whereas this process is correspondingly difficult with a large mattress.